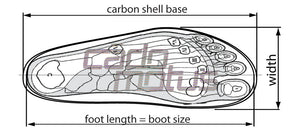 Boot sizing, molding and fitting
All CadoMotus boots are heat moldable to make them fit perfect to your feet. Moldability is most effective at the ankle area, this area can be made wider, more narrow or totally reshaped almost without any limitations.

Molding the heel pocket is sufficient but limited since the bottom of the shell is extremely rigid and solid, so this part won't deform. The heel can usually be made 1-2mm smaller of wider. The same capabilites on the toe box area and medial or lateral side of the boot, the width of the boot can be enlarged up to +2-3mm.
The chart below explains the dimensions for all 110-series boots. The width dimensions of the boot can be modified to accommodate your feet in case they are wider or more narrow. To do so please read our heat molding blog.
Find your Perfect Fit
> Measure both feet from your heel to toe (follow instruction in the sketch below). Some people have one foot slightly larger than the other. Choose the size that fits the larger of the two.
> Consider the socks or tights you'll wear most often with your shoes. For thicker socks, you may want to order shoes ½ size larger than you normally wear.
> Measure your feet in the afternoon, when feet tend to be their largest.
> If you require a wide width, we advise to order a ½ size larger.
---